Do you want your deck to look great again?
Whether you have an existing deck that requires some TLC or maybe a new deck that needs its first treatment we can help you.
Do you want a glossy smooth surface coating that you can see your reflection in or a natural oil applied that lets the timber's natural grain shine?

Do you want to change the colour of the timber to work in with walls or gardens?

Do you need a non-slip finish?
At Sydney Deck Sealing we have a variety of options and solutions for all your deck sealing needs. Our unique systems developed over 20 years working with wood provide consistent and excellent results.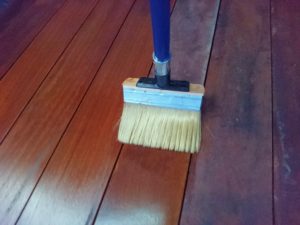 Our processes for getting the best results on your property includes the use of high end coating products such as: Intergain, Sikkens and Cutek as well as environmentally friendly cleaners that can remove grime and dirt safely near gardens or children's play areas.
Most timber work will require at least a light sand and when we do this sanding we will use a three-stage dust filtration system that collects at least 95% of dust and ensures that your home will be kept as clean as possible whilst the job is being carried out. To some tradesmen your house is a "work site". We know better and will make sure your house is all clean at the end of the job.
We all love bullet points so here's some for you about our services:
Timber Stripping, Sanding and Refinishing for: Decking, Garage doors, Privacy screens, Fencing, French Doors, Cedar Windows, Hard and Softwood Cladding and Furniture

Environmentally Friendly Cleaners and Efficient Water Blasters

Three Stage Dust Removal Systems Ensure a Clean Job

Wide Choice of Premium Brand Coatings and Stains Available

Extra Care with Gardens and Surrounding Buildings

Antifungal and Mould Removal Treatments

Furniture/Plants Can be Moved if Needed

Full Written Reports Upon Completion of Jobs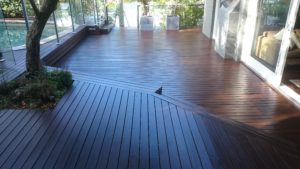 We do all work to industry standards, are fully insured and highly respected by other tradesmen for the impressive work we do.
Remember, at Sydney Deck Sealing we have many options and solutions for all deck and external timber sealing needs & budgets.
Contact Sydney Deck Sealing Now for a Free Quote